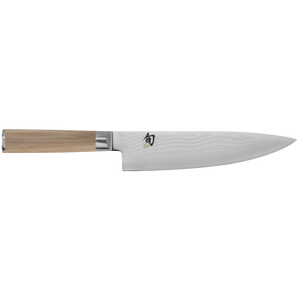 Kershaw - Shun KAI USA Ltd.
Shun Blonde Chefs Knife
Regular price
$169.95
$169.95
Unit price
per
This is every cook's must-have knife. The Shun Classic Blonde 8-in. Chef's Knife is an all-purpose knife ideal for a full range of cutting tasks. This new blonde-handled version of our Classic Chef's knife features an 8-inch blade ideal for preparing fruits, vegetables, and proteins. The wide blade keeps knuckles off the cutting board and is exceptionally handy when transferring cut food from board to pan. With its curved belly, this chef's knife can be gently "rocked" through fresh herbs or spices to produce a very fine mince. Shun Classic Blonde's thin, sharp blades makes it lighter and less tiring to use than comparable European-style chef's knives.
The true does-it-all knife
Proprietary VG-MAX cutting core is wear and corrosion resistant, strong, and very fine-grained to enable a razor-sharp, long-lasting 16° edge each side
34 layers of stainless Damascus cladding each side (68 total); support the core, add stain resistance, and help food release from the blade
D-shaped blonde Pakkawood handles are comfortable for both left- and right-handed users; durable, beautiful, and won't harbor bacteria
Full composite tang for light weight and perfect balance
Handcrafted in Japan
---