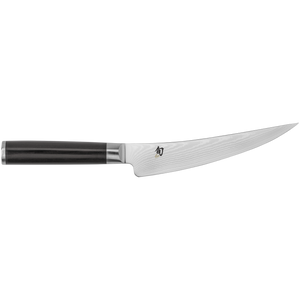 Kershaw - Shun KAI USA Ltd.
Classic Damascus Gokujo Knife
Regular price
$109.95
Sale price
$139.95
Unit price
per
For boning, the narrow, sharp, curved blade gets in close to the bone, making it easy to separate meat from bone. Even fibrous tissue is no match for Shun's extremely sharp edge. It's perfect for trimming the silver skin from a tenderloin or roast or even making your own cutlets.
Curved, rigid blade gets in close and offers controlled cutting
Proprietary VG-MAX cutting core is wear and corrosion resistant, strong, and very fine-grained to enable a razor-sharp, long-lasting 16° edge
34 layers of stainless Damascus cladding each side (68 total); support the core, add stain resistance, and help food release from the blade
D-shaped ebony PakkaWood® handles are comfortable for both left- and right-handed users; durable, beautiful, and won't harbor bacteria
Full composite tang for light weight and perfect balance
Handcrafted in Japan
---